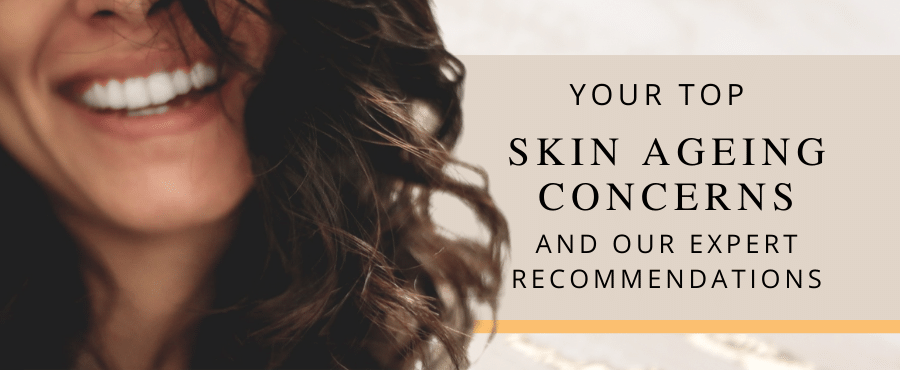 Fine Lines
While we all experience ageing differently, fine lines will often be one of the earliest signs of ageing. These lines usually begin to appear in our early twenties and become more established in our thirties. As the term 'fine' suggests, they appear very faint and will usually develop on the areas of greatest facial expression such as the forehead and around the eyes.
When it comes to preventing fine lines from becoming established, the first step would always be to get a professional opinion on the products you're using in your skincare routine. "We often see clients drawn to use low cost online skincare products. Often advice comes from online articles, vloggers and influencers. While these endorsements can sound great, they're really unreliable and the products are often high strength and poor quality which can do a serious amount of damage to our skin!" Alyona, Medical Aesthetician, Ace Aesthetics 
Booking a free skincare consultation allows us to look at the products you're using as well as giving you a thorough skin assessment so you can make informed decisions about the products which are actually right for your skin.
As well as products and a robust skincare routine, we would also recommend introducing some of the lighter exfoliating and hydrating treatments into your regular routine. Treatments such as the award winning hydrafacial, skin peels or Dermapen are highly effective against fine lines by providing safe but intense levels of exfoliation as well as skin nourishment and rejuvenation. At the earliest stage of ageing, just a handful of sessions a year could be enough to give your skin the boost it needs to be effectively smoothed and rejuvenated.
Preventative Botox 
Botox is of course highly effective in preventing fine lines from forming. With advanced techniques from a highly trained professional injections can now be administered without limiting facial movement; for results which look and feel natural. 
Deciding if you actually need preventative Botox cannot be determined by age alone, but generally speaking it would be unusual for us to recommend Botox to clients under thirty. "We often have clients in their twenties who think they need Botox but, after the consultation process, we find that correct skincare products and a combination of carefully selected therapy treatments can be more than enough to keep the skin healthy and youthful. Alyona, Medical Aesthetician, Ace Aesthetics
Deep set wrinkles
Deep set wrinkles are the more pronounced lines and creases which over time, can begin to stand out and become prominent. The most effective methods of treating these lines include resurfacing facials such as Skin Peels or Mesotherapy, and rejuvenating facials such as Tixel Skin Rejuvenation. At the stage of deep set wrinkles, injectable treatments such as Botox and Dermal Filler can start to be considered. 
The method which will be right for you will highly depend on factors such as your age and the defining features of your face. "There's a general misconception that 'good aestheticians' will remove all traces of ageing from your face leaving you wrinkle free. This is of course achievable, but is a simplified approach. It takes us away from natural, balanced results producing instead the unnatural, and overdone look which clients are usually keen to avoid." Alyona, Medical Aesthetician, Ace Aesthetics
Skin Laxity 
As our collagen and elastin levels start to naturally decline, the skin starts to lose its structure. This is when we begin to notice the loss of laxity and firmness which leads to concerns such as sagging and crepey skin. While using the right skincare products is important, the best treatments are those that provide an intense level of collagen stimulation. Effective treatments include Dermapen to tighten, lift and rejuvenate, Tixel Skin Rejuvenation to rejuvenate, resurface and tighten the skin or, a collagen developing treatment such as Clear Lift which as well as resurfacing the skin will also target unwanted pigmentation damage for skin which looks bright and fresh.
Facial Volume
In our younger years we're often so preoccupied with fine lines and the odd grey that a loss in facial volume can sit under our radar. However, there comes a point – usually in our late thirties, early forties – that the effects of losing facial volume and the natural plump quality to the skin suddenly creeps up on us. This loss of volume can be incredibly ageing resulting in a progressively sunken, drawn appearance particularly noticeable in our cheeks and around our jawline. 
Restoring volume and lift in the face can have a subtle yet substantial effect on making us look fresher and more youthful. Treatment options include highly effective non-invasive methods such as Accent Radio Frequency Facial Skin Lifting to increase firmness, plumpness, lift and tightening. As well as this, injectable options are also highly effective such as Dermal Fillers and PDO Thread Face Lift to help visually restore the natural structure and definition that becomes lost. 
Combined Treatments
When it comes to the ageing process, we're rarely dealing with one isolated concern at a time. To ensure you get the highest impact from each treatment, we've developed an exclusive package of combined treatments. 
These treatments always start with the award winning Hydrafacial, a detoxifying and deep cleansing treatment which – as well as providing nourishment – removes the surface layer of your skin followed by your choice of advanced anti ageing treatment. Options include Accent Radio Frequency Facial Skin Lifting, Tixel Skin Rejuvenation and Dermapen Mesotherapy. Using the two treatments together, gets the skin into the perfect condition for treatment, maximising collagen stimulation and ensuring you benefit from the full effects of your treatment.
Ready To Find A Practitioner?
Take a look at our 'Finding A Practitioner Who Understands Ageless Beauty' guide to understand what you need to look for when finding a clinic to treat your ageing concerns.