Cyspera® Intensive Pigment Corrector
Clinically Proven Results / Cysteamine
Cyspera®is a pigment corrector formulated with cysteamine and free of hydroquinone to improve the appearance of stubborn discoloration.
92% of subjects saw significant improvement in the appearance of brown patches 
67% pigment correction in the appearance of stubborn discoloration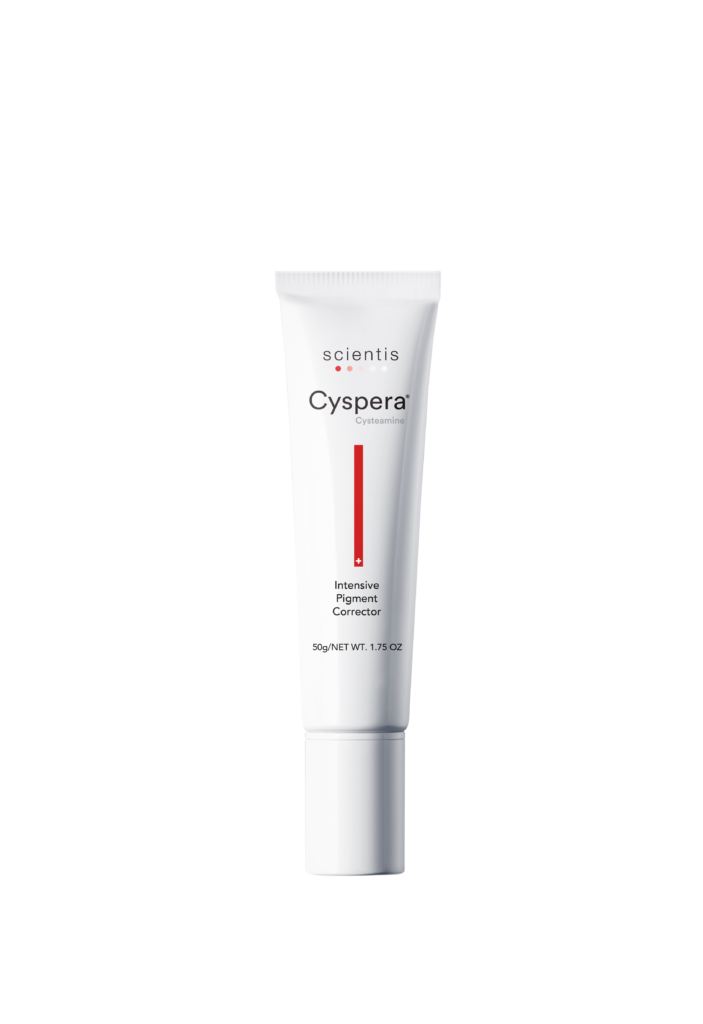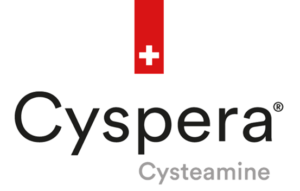 What is Hyperpigmentation?
Hyperpigmentation can be caused by a number of different factors including inflammation, a change in hormone levels (e.g. contraceptive pill, pregnancy, menopause), as well as sun damage and other skin injuries. Darker skin tones are more susceptible to hyperpigmentation, especially in combination with excess sun exposure. 
The Cyspera Intensive Pigment Corrector has higher pigmentation correction compared to all other agents. It is free from carcinogenic and toxic ingredients such as hydroquinone, retinoic acid and corticosteroid. This means that the Cyspera Intensive Pigment Corrector has a very low risk of adverse reaction and can deliver significant, clinical improvements to those with hyperpigmentation. 
Benefits of Cyspera Intensive Pigment Corrector:
• Reduces & corrects pigmentation 
• Innovative formula including cysteamine 
• Highly biocompatible 
• Remove brown spots, treat pigmented marks & achieve a more even complexion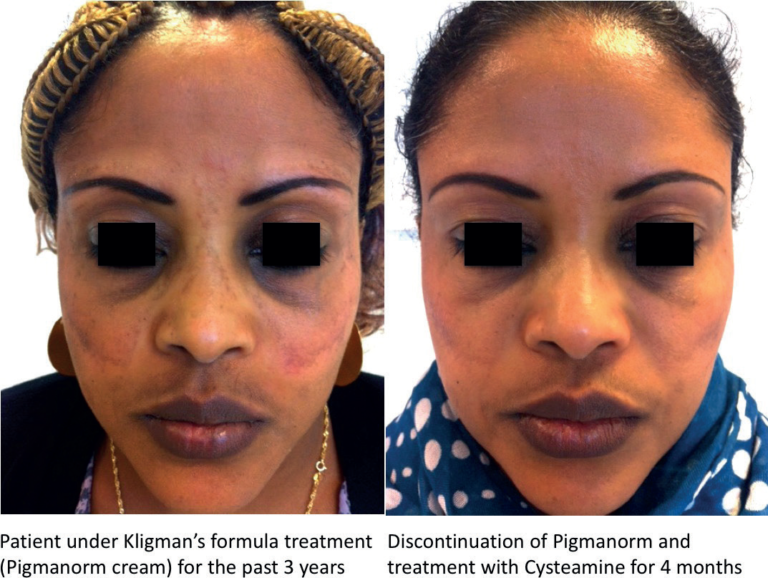 Frequently Asked Questions
Ingredients of Cyspera Intensive Pigment Corrector:
Aqua (Water), Mineral Oil, Cysteamine HCI, Niacinamide, Butyrospermum Parkii (Shea Butter), Glyceryl Stearate, Lecithin, Isopropyl Myristate, Cetyl Alcohol, Ceteareth-20, Ascorbyl Palmitate, Sodium Ascorbyl Phosphate, Octyldodecanol, Phenoxyethanol, Ethylhexylglycerin. Propylheptyl Caprylate, Ceteareth-12, Cetearyl Alcohol, Cetyl Palmitate, Fragrance, Xanthan Gum, PEG-30 Dipolyhydroxystearate, Tocopherol, Beeswax, BHT, Tetrasodium EDTA, Hexyl Cinnamal, Linalool, Geraniol.
Apply 15 minutes daily for desired outcome 
Intensive phase: Once per day for 16 weeks 
Maintenance phase: Twice-weekly, once per day 
• Apply to completely dry skin: Do not wash the skin before application. If necessary to wash, wait for one hour before application. 
• Leave on 15 minutes: Apply a thin layer on the skin. Leave on for 15 minutes (a warming sensation or mild tingling may occur and last up to 30 minutes). You may notice a distinct scent during application. Cyspera® can be applied on the entire face. 
• Wash off: Remove by washing the area with a gentle cleanser. Gently pat the area dry. 
• Moisturize: Moisturize the area. Maintain skin hydration during the day. 
For optimal results, daily use of a broad spectrum sunscreen with SPF 30 or higher is highly recommended. Use of Cyspera® can be tailored to meet an individual's needs and routines. It can be applied in the morning or evening, offering true flexibility and personalized choice. 
No significant undesirable effects, other than redness, dryness, or irritation of the skin, are reported. A burning sensation and mild redness might occur immediately after application, but it will usually disappear after 30 minutes. This is a normal reaction and may happen during the first few days of application. 
For best results, you need to make sure you are consistent and apply it daily for the full 15 minutes. 
Do not use Retinols or AHA or Salicylic acid when starting this product as this can lead to skin irritation and sensitivity. Please arrange a phone call consultation to discuss how to add this product into your skincare regime.
I'm so grateful for having heard about this cream from a person on FB. It's been about 2 weeks of consistent use and I ALREADY SEE IMPROVEMENT! I have battled Melasma for almost 10 years now and have used anything that would 'promise' a skin clear of hyperpigmentation. This cream has given me so much hope that I can't even begin to describe it. Not only does it work it also has zero side effects. I can't wait to go through the 16 weeks of application to see the impact
Don't miss out on treatments!
Subscribe Now!